Bomb thrown at armoured police car in Twinbrook estate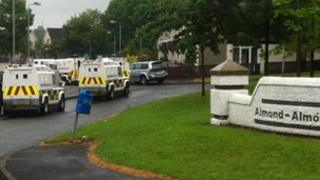 A bomb has been thrown at an armoured police car in the Twinbrook estate in west Belfast.
It is believed police were lured to the area just after midnight on Wednesday so they could be attacked.
Officers were responding to reports that a window had been broken in a house in Whin Park. They were in the house when the bomb exploded.
It caused damage to a number of vehicles. No-one was injured in the attack.
Chief Inspector Darrin Jones said those behind the attack had "shown callous disregard for the safety of the local community and the police officers serving this community".
'Misguided individuals'
"We are very fortunate that no-one was killed or seriously injured, as this occurred in a residential area, putting the lives of those living here at serious risk," he said.
"We are committed to providing a service across Northern Ireland, despite the attempts of a small minority who attempt to kill officers serving their community and who should be allowed to carry out their duties without the added pressure of misguided individuals intent on causing them harm."
Sinn Fein MLA Jennifer McCann said those behind this attack had "shown their utter disregard for this community".
"Our representatives have been working with local residents from just after the attack late last night and one thing is very clear, there is absolutely no support for these attacks or these dissident groups in this area," she said.
DUP MLA and Policing Board member Jonathan Craig said it was an attempt to murder police officers doing their duty and to unsettle members of the nationalist community who support policing.
Explosion
"A hand grenade was thrown at the two police officers," he said.
"It did explode and it damaged two cars of people who live in the area.
"Thankfully the cars sheltered the police from the main explosion, probably saving their lives."
SDLP councillor Brian Heading said: "This was a totally reckless attack which could easily have killed either a police officer or a resident in this community.
"This is a densely populated area with a lot of young families, and to bring this sort of mayhem into the neighbourhood is cowardly and destructive."