Politicians condemn Olympic torch trouble in Londonderry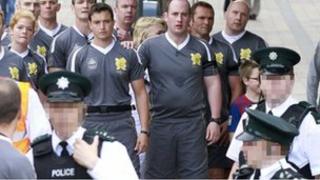 Politicians have condemned the trouble that erupted in Londonderry as the Olympic torch was carried through the city.
Scuffles broke out after dissident republican protesters blocked the torch's planned route near the Guildhall.
It was forced to go a different way in order to reach the Peace Bridge.
A 51-year-old man is to appear in court later this month, charged with assault on police and disorderly behaviour.
It was the first time the relay route was disrupted since it arrived in the UK.
The dissidents were protesting against policing, on day 17 of the relay.
Sinn Fein MLA Raymond McCartney said the protesters had nothing to offer the people of Derry.
"We have to remain focused. This city is moving on," he said.
Good event
"We have to continue to isolate these people. They have to be seen for what they are, divorced from reality and don't listen to the popular will of the people."
SDLP MP Mark Durkan said dissident elements had "seized an opportunity to abuse what was a good event for the city".
He said if those behind the protest had any positive points to make, "we're all ears".
"You don't need to engage in these negative tactics, you don't need to be attacking the city, and certainly there's nothing you're going to do for Ireland by doing bad things in Derry," he said.
The Peace Bridge in Derry links the Cityside to the Waterside and was built to symbolise a shared future for the city.
Democratic Unionist Party MP Gregory Campbell said the protesters were "pathetic".
"The minor inconvenience which it brought is not the major issue, it is not even the negative headlines that their actions bring to Northern Ireland which is the overriding concern, but it is the potential that their activities bring to the first ever UK City of Culture events next year," he said.
"It is clear they are not going to be reasoned with, therefore the response from within their own community must now be swift and unequivocal and the security response to dealing with their efforts will need to be reviewed."
In a statement, the PSNI said: "The decision to implement a small diversion to the route of the torch was taken to ensure the safety of all concerned and to ensure the enjoyment of the event by the vast majority of spectators was not affected."