Gloria Hunniford recalls Queen's coronation visit to NI in 1953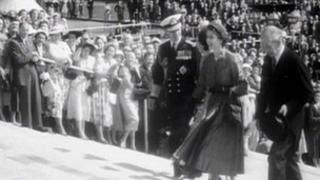 On a warm sunny July day in 1953, Gloria Hunniford was out riding her bicycle on a country road near Lisburn when a motorcade of cars coming towards her made her pull in to the hedge.
Driving past her in an open-topped car she saw the newly crowned Queen Elizabeth II.
This special childhood memory has stayed with her since. With her documentary, The Queen and Me she retraces the steps of the Queen on her very first visit to Northern Ireland as monarch.
Gloria sets out to discover why the Queen was here, where she went and whom she met.
She was 13 when Elizabeth was crowned Queen.
Her family did not have a television set so she had watched the Coronation on a neighbour's television.
"A matter of weeks later, as Northern Ireland was the first in the list of places of the tour around the Commonwealth, to be out on my bike on a country road and suddenly and accidentally see the motorcade and actually seeing the Queen face-to-face in the car, I just couldn't believe it," she said.
Memories
"Here she was, this beautiful young Queen in Northern Ireland, in our area, and I saw her."
The programme interweaves the memories of those who were there with vintage film footage.
Among those featured are Roberta Simpson, who was nine-years-old when she presented the Queen with damask cushion-covers in Ballymena, local amateur film maker Harold Patterson and Ballymoney school teacher Esme Coulter.
They share their memories of what it was like to meet the Queen.
The programme also looks at archive press coverage of the Royal visit and finds that the public were as fascinated by what the Queen was wearing then in the same way many are now about the items worn by the Duchess of Cambridge.
Meetings
Following in the Queen's footsteps Gloria takes the train through Ballymena, Ballymoney and Coleraine to the north Antrim coast where, in 1953, the train stopped for lunch so that the Royal party could enjoy the scenery.
Since that fleeting glimpse of the Queen on a country road in childhood, Gloria has met her on several occasions during her 40-year career in broadcasting.
"I left Northern Ireland to work for BBC Radio 2 in 1982 and the same year I went to London I was asked to introduce the Royal Film that year, which meant actually speaking directly to the Queen, so I had to learn my 'ma'am' and my curtsy very quickly," she said.
"It was quite nerve-wracking speaking directly to the Queen.
"I've met her at quite a few of those formal entertainment occasions.
"You never get to have any long conversations with her, but you get to meet her and it's always very exciting."
The Queen And Me is on BBC One NI at 12:00 BST on Sunday 3 June.