DUP's Gavin Robinson is new Lord Mayor of Belfast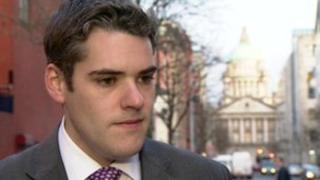 DUP councillor Gavin Robinson has been elected as the new Lord Mayor of Belfast.
Mr Robinson's first act as mayor will be to oversee the city's Diamond Jubilee celebrations.
The 27-year-old barrister is taking over from Sinn Fein's Niall O Donnghaile.
Mr Robinson said he hoped to bring "dynamism and positivity" to the role, and said he was pleased that all parties in the council had backed him.
"I hope to represent all citizens of Belfast," he said.
He paid tribute to his predecessor, saying Mr O Donnghaile had "overall a very good year" and had made a significant contribution, "particularly in issues around children and young people, and suicide".
Sinn Fein councillor Tierna Cunningham was elected Deputy Lord Mayor.