Toxic algae blooms close Loughbrickland Lake and Moor Lough to anglers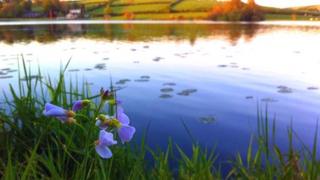 Two lakes have been closed to anglers because of a toxic algae bloom which could pose a public health risk.
Loughbrickland Lake in County Down and Moor Lough near Strabane were closed after blue-green algal blooms appeared in the water in the past week.
The Department of Culture, Arts and Leisure based its decision on advice from environmental health officers.
As toxins could accumulate in fish, none taken from the two lakes should be eaten until further notice.
People were advised to avoid contact with the water at Loughbrickland Lake, although the ban on public bathing has been lifted in Strabane.
Toxins
Possible side effects of the toxins include skin rashes, eye irritation, vomiting fever, diarrhoea and muscle pain.
Loughbrickland Lake feeds a stream which runs into a park in the village.
Signs have been put up by the local council advising visitors to keep their children and pets out of the water.
The blooms are caused by a surge in algae brought on by dry weather.
This leads to slow-moving water which increases the concentration of nutrients from farming and other activities.
The department said the blooms would decline as the weather changes.
It is seeking more guidance on how long the toxins may remain in the fish, and that will influence how long the lakes are closed.
Last year, Loughbrickland Lake was hit by a build-up of algae and weed which killed a number of fish.
A weed harvester was brought to the lake to cut it back.