NI man to be ordained in Arctic igloo cathedral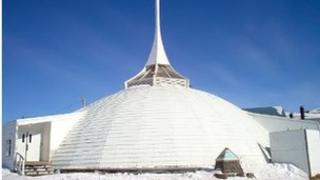 A Church of Ireland rector from Knocknamuckley is preparing to take holy vows in a new Igloo Cathedral in the vast white spaces of the Arctic.
Darren McCartney will be ordained as a suffragen (assistant) bishop in Iqaluit on Sunday.
He was first ordained a minister in the Arctic in 2004 and served in Pangnirtung, Baffin Island with his wife Karen.
Two years later the couple returned to NI and Darren was an army chaplain.
He was also curate in St Nicholas Church, Carrickfergus.
Church of Ireland Bishop of Down and Dromore, the Right Rev Harold Miller congratulated the new assistant bishop in a phone call.
"I am absolutely thrilled," he said. "Darren was ordained in the Arctic and exercised a very effective ministry there before returning to Northern Ireland.
"Our thoughts and prayers are with him and his wife Karen on the occasion of his consecration on Trinity Sunday. We look forward to celebrating with him when he returns.
Karen McCartney is on her way to the Arctic for Sunday's ceremony.
Darren will take up his role later this year.