Michaela McAreavey trial: Officer denies torture claims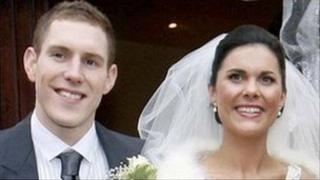 The trial of two men accused of murdering Michaela McAreavey has heard further detail of allegations of police brutality against one of them.
Mrs McAreavey, 27, was found dead during her honeymoon at the Legends Hotel in Mauritius in January 2011.
Avinash Treebhoowoon, 30, a room attendant at the hotel was arrested the morning after the murder.
The chief inspector who led the investigation was again questioned on claims police tortured Mr Treebhoowoon.
The defence has said this resulted in the accused admitting to the killing and signing a confession after two days in police custody.
Mr Treebhoowoon's lawyer told the court that he was beaten, had his head submerged in water and that detectives attempted to suffocate him with a towel, before one of the officers threatened him with a gun.
Defence counsel Sanjeev Teeluckdharry put it to Chief Inspector Luciano Gerard that he was "tired and exasperated" and swore at Mr Treebhoowoon allegedly threatening to arrest his mother father and wife.
Over fours hours of questioning the chief inspector was unflinching in his responses.
He replied "no my lord", "never my lord", "this is unfounded and ridiculous my lord" and "I can't see why any police officer would expose himself by beating or inflicting bodily harm to Mr Treebhoowoon".
Mr Treebhoowoon, 30, and Sandip Moneea, 42, both deny murder.
Chief Inspector Gerard's cross-examination is to continues on Friday.