Belfast City Hall Twelfth move welcomed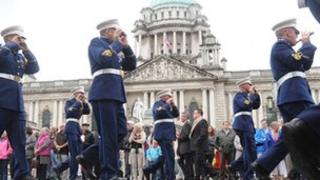 The grounds of the City Hall are set to be opened on 12 July in a bid to attract more visitors to Belfast.
It is part of the Orangefest initiative of the Orange Order - aimed at making the Twelfth more family oriented.
The decision is backed by the Chamber of Trade. It has been passed by a council committee and will go before the full council on Friday.
SDLP councillor Tim Attwood said it showed a more mature political leadership at City Hall.
"We hope in the next number of years there's reciprocation from unionists to support other events that are important to nationalists to make City Hall more inclusive to all," he said.
"Steps to try and remodel the Twelfth of July to make it more friendly are welcome
"It's a step in the right direction, but let's be honest not many nationalists are going to go into the city centre that day."
Tom Haire, Orange Order county grandmaster of Belfast, said he hoped the Twelfth would attract people from all backgrounds.
"I think it's changed times and we have to keep moving forward," he said.
"I think we are making reciprocal gestures, we're doing our best.
"I would like to see us back to the situation where everybody feels comfortable to come and watch the 12th of July in Belfast."
Orangefest, along with Chamber of Trade and Commerce, Taste of Ulster and Belfast Centre Managements, are planning an event with an emphasis on food, craft, dance, face painting and balloon modelling.
The Festival of Fools would also be present in the streets with performances to reflect growing diversity in post-conflict Belfast.
The aim is to bring at least 1,000 extra visitors to city centre, over and above the estimated 12,000 who normally attend to watch the parade. A large number of stores will be open.
The council's strategic policy and resources committee has approved the use of City Hall grounds.
The Twelfth of July marches commemorate the Battle of the Boyne in 1690.
This was when Prince William of Orange claimed victory over Catholic King James II.