Yellow submarine hunting for alien species in lough waters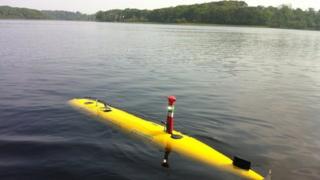 A yellow submarine is on a mission beneath the surface of Lough Erne in County Fermanagh in search of an alien species.
Zebra mussels are a foreign invasive species which can have a devastating impact on the marine environment, but finding out exactly what is happening in the murky depths of the lake is a challenge.
A high-tech submarine is monitoring the bottom of Lough Erne to study the zebra mussel population in different areas and its distribution at various depths.
The autonomous underwater vehicle (AUV) is being developed by Leo Steenson, 25, from Glenarm, County Antrim, who is a PhD student at the University of Southampton.
"This is a two-metre long submarine but it's not remote controlled and there are definitely no people inside it," said Mr Steenson.
"It's got a computer inside and a lot of different sensors and what we do is we write some software to let it guide itself.
"Once we hit go and it dives, it's hands-free and does its own thing - it guides itself and knows when to switch the cameras on.
"At the end of the day, it pops up to the surface and comes home."
The project is a collaboration between the University of Southampton, the University of Birmingham, the National Oceanography Centre and the Agri-Food and Biosciences Institute (AFBI) in Belfast.
Anxious wait
As the AUV named Delphin 2 gently sinks beneath the surface and its flashing LEDs fade into the murky water, an anxious wait begins for Mr Steenson and his colleagues.
"We know how long the mission is going to take so we start our stopwatches - it dives and then we sit and wait, and it's usually late by about five minutes," he said.
"Those five minutes are extremely nerve-wracking but it always pops up and once it gets up to the surface it gets a GPS fix and motors straight back home."
So far, the missions in Fermanagh have been a success, although Mr Steenson said other centres working with this technology have experienced failure.
"Occasionally they don't come back - they're quite expensive toys to lose," he said.
This submarine will continue to be developed at Southampton, mainly for research into AUVs, but also to allow marine scientists and marine archaeologists to conduct different surveys.
"The idea for monitoring the oceans and lakes like this is to send machines rather than people to reduce risk, but also we can get much more repeatable and better data if we send machines to do these experiments," said Mr Steenson.
Extinction
Lough Erne was one of the first lakes in Northern Ireland to be infected by zebra mussels, which can cause the ecology of lakes to change substantially or even collapse.
The mussels out-compete the local swan and duck mussels, leading to their extinction.
They also filter the water very effectively, making it so clear that plant growth increases dramatically and chokes the waterway.
Another problem is caused by the sheer mass of the zebra mussels which can block the pipes of water intakes on boats and shore structures such as water treatment works.
It has been an ideal place for Leo Steenson to carry out his experiments because it is a large body of water.
"Lough Erne has been used to get as near to sea conditions in terms of scale, but without the risk of losing it in the sea," he said.
"Here in Lough Erne, the visibility is quite good for a freshwater lake and it's obviously a fantastic area to work in as well."