Martin McGuinness says Executive will consider gift to Queen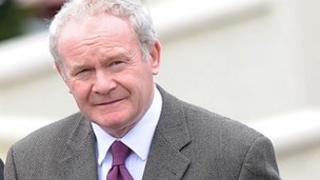 Deputy First Minister Martin McGuinness says the Executive will consider a proposal from First Minister Peter Robinson to make a gift to mark the Queen's Diamond Jubilee.
He told the Assembly he recognised that hundreds of thousands of people in Northern Ireland hold the Queen in "very high esteem."
Mr McGuinness has already hinted he is considering meeting the Queen when she visits Northern Ireland as part of a tour to mark the Diamond Jubilee.
He said during Assembly Question Time that he and the First Minister had made a very determined effort over the past few months to recognise the importance of commemorating events
"I have passed I hope many tests over the course of the last 20-odd years in relation to the peace process and intend to continue to work forward in a very sensible and reasoned way with political colleagues in the Executive, " said Mr McGuinness.
'Powerful message'
"If issues come up that we need to deal with...then the Executive will consider all of those issues very responsibly."
"Over the course of the last number of months there has been a very determined effort by the First Minister and myself and by both the Irish and British governments to recognise the importance of commemorating events many of which are facing us over the course of the next ten years.
"Thus far I think we have successfully managed to ensure that we sent a very powerful message out there to the community that we have to move forward respecting each other's diversity."
The DUP MP Gregory Campbell said the present Sinn Fein position "was better than murdering the Queen's uncle" a reference to the IRA murder of Lord Mountbatten in County Sligo in 1979.