SDLP may remove support for Girdwood barracks development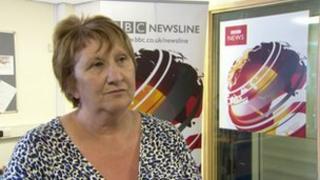 The SDLP could withdraw its support for a controversial plan to redevelop a former army barracks in north Belfast, its deputy leader has said.
The regeneration of Girdwood Barracks has been delayed for years due to disagreements over housing allocation between nationalists and unionists.
A new plan, which was announced last Monday, has been criticised over fears it will maintain sectarian divisions.
Dolores Kelly said it had been a carve-up between Sinn Fein and the DUP.
Mrs Kelly told the BBC's Seven Days programme the vast majority of people waiting for housing in the area were from the nationalist community, and said: "Some people are wondering what was the price of Sinn Fein selling out housing need in Ardoyne.
"People think the DUP rolled over on the Maze/Long Kesh conflict transformation centre in return for this deal in Girdwood.
"It's absolutely dreadful."
Mrs Kelly said the SDLP had met at the weekend to discuss Girdwood, and were considering lodging a complaint with the Equality Commission.
Last year, the outgoing SDLP Social Development Minister Alex Attwood approved plans for 200 new homes on the site.
However, Mr Attwood's plans were denounced as "deeply destabilising" by the DUP and were immediately reversed by the incoming DUP minister Nelson McCausland.
Mrs Kelly's party colleague Alban Maginness had given a qualified welcome to the plan on Monday, but she said he had entered talks at Belfast City Council level "in good faith" after being "frustrated by six years of delays".
She said the issue should have been discussed by the Executive, and felt the SDLP had been excluded from the process.
The DUP's Jonathan Bell said: "The plan says 90% of this site will be shared space, because you can't force people to live beside each other.
"Alban Maginness and all the elected representatives sat down and worked out a plan that got the maximum amount of consensus.
"Housing can only be allocated on the basis of need - the law is very clear on the matter."
The 27-acre site was first taken over by the Department of Social Development in 2006.
The new masterplan includes two separate blocks of new housing, one situated in a predominantly Protestant area and the other - at the opposite end of the site - in a traditionally nationalist area.
It has been criticised for its lack of detail on housing allocation, and journalists were not invited when representatives from Sinn Fein, the DUP, and the SDLP posed for photographs with their plan at the site on Monday morning.