Martin McGuinness offers to meet dissident republicans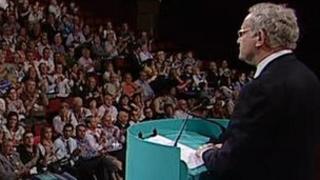 Deputy First Minister Martin McGuinness has offered to hold talks with dissident republicans.
He told the Sinn Fein party conference he wanted to send dissidents the message that "the war is over".
"I am offering them an opportunity to meet and talk," he said.
"Come and tell us what you hope to gain by deluding yourselves and the gullible that your actions will succeed in what is certainly a pathetic and futile attempt to turn back the clock."
Mr McGuinness told delegates at the ard fheis in Killarney there was "plenty of room for voices who oppose the Sinn Fein strategy".
'Nothing romantic'
"I was part of the conflict, I was there during the difficult and tragic times we had in the past, and let me tell you there was nothing romantic about the war," he said.
"It was hard, it was painful and it was traumatic and I never ever want the children of Ireland who live today in peace to be subjected to the conflict, pain and hurt that we lived through."
In a direct appeal to dissident republicans, he said: "I never want to attend another funeral of a police officer or any other member of our society who lost their lives due to violence, so I appeal to you for dialogue but I also say to you that the process of building a new future will continue with or without you - it is your call.
"Others in Derry have recently embarked on a series of shootings and beatings against vulnerable young people.
"Over 30 years ago I spoke out against such attacks and I do so again today.
"These attacks are deplorable, they are not wanted and they need to end."
Sinn Fein president Gerry Adams addressed the conference later on Saturday.
He said Sinn Fein wanted to demonstrate to unionists that a united Ireland was "also in their interests".
"It does not make sense on an island this size and with a population of six million, to have two states, two bureaucracies, two sets of government departments, and two sets of agencies competing for inward investment," he added.
"Harmonising our systems will save money, improve efficiency and create jobs.
"A new, agreed united Ireland will emerge through a genuine process of national reconciliation."
Mr Adams also set out his party's opposition to the European fiscal treaty ahead of next Thursday's referendum vote.
He said the Irish government was "out of step with the rest of Europe" on the issue.