Belfast rioter gets suspended jail term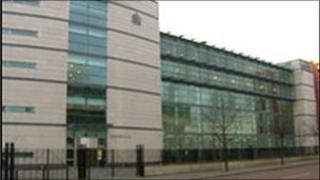 A rioter who was caught on CCTV throwing bricks and bottles at police in east Belfast has had a 12 month detention term suspended for two years.
The judge warned Timothy Andrew Baker, 20, he was only suspending the term because of his clear criminal record, guilty plea and good references.
"It is only by the skin of your teeth that you are going out the side door and not the back door," he said.
Earlier, a prosecuting lawyer told the court that police CCTV footage showed Baker throwing various missiles during rioting on the Newtownards Road on 21 June last year.
It was the second night of rioting, the lawyer said adding that police were able to identify Baker because he was one of the few rioters who was not masked.
When he was arrested and interviewed, Baker admitted joining in the riot and told officers he was only in the area because he had to walk home as there was no public transport due to the previous night's disturbances.
Baker, from the Beersbridge Road in east Belfast, later pleaded guilty to a single charge of riot.
Solicitor advocate Paul Farrell told the court that the tourism degree student "literally took a wrong turn - a wrong turn on the way home and a wrong turn in his life".
He said that when he came upon the rioting, Baker was "quite literally a moth attracted to a dangerous flame".
The judge told the former Royal Belfast Academical Institution pupil he had let his family and himself down and that the message had repeatedly gone out that "people who get involved in riotous situations in this city can expect custodial sentences as an almost automatic consequence".
However, he added that Baker had "very good prospects" and he was prepared to suspend the sentence to give him a chance.