Leading guitar maker, Avalon Guitars, is going into liquidation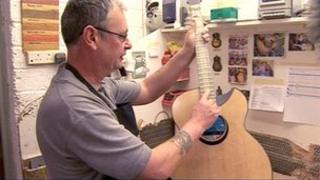 A guitar manufacturer which has made instruments for some of the biggest names in the music world is going into liquidation, the BBC has learned.
Avalon Guitars, based in Newtownards in County Down, has made customised guitars for hundreds of international artists.
Their customers have included Bruce Springsteen, Van Morrison, Bob Geldof, David Gray and Katie Melua.
The matter is being dealt with the firm FPM.
Avalon Guitars employs six full time staff and describes itself as the leading maker of premium custom guitars in the UK & Ireland.
Many big names have quietly visited the Newtownards factory to inspect their instruments while they were being made.
The owners were not immediately available for comment.
A statement is expected from the company in the next few days.