Northern Ireland anorexia services 'shameful' - parents
By Marie-Louise Connolly
BBC Northern Ireland health correspondent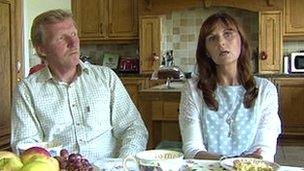 A County Down couple whose daughter has anorexia have said health authorities should feel ashamed at the lack of services available not only for adult sufferers but also their parents.
Victoria Shaw, 22, was treated in London after doctors in Belfast admitted being out of their depth.
A two-day conference, being run by the couple, is focussing on how parents can deal with eating disorders at home.
"It's a living hell. It tore us apart as a family," Diane Shaw told the BBC.
"We couldn't talk about food, we couldn't go out for meals, even doing the groceries sparked rows. I had no idea what to do and I couldn't find anyone to help us.
"I watched my daughter Victoria dying, her weight was plummeting and there was nothing I could do."
After contacting their GP, Victoria was finally admitted to a psychiatric ward in the Mater Hospital in north Belfast.
Northern Ireland does not have designated in-patient eating disorder units for adults, instead they are admitted to medical or psychiatric wards where they are attended by an eating disorder expert.
According to Ivan Shaw, instead of getting better, after seven months his daughter's health deteriorated.
"Victoria was admitted for a re-feed. This should have taken two weeks. But her physical and mental health just got worse.
"There were posters around the ward about getting fit and losing calories. She wasn't in the right place at all.
"We were just hitting our heads off a brick wall. One day I just wanted to step out in front of a bus."
With their daughter's health getting worse, Mr Shaw said doctors in the Mater Hospital admitted they were out of their depth.
The couple researched what help was available in England and moved their daughter to Bethlem Royal Hospital which is part of the South London and Maudsley NHS Foundation Trust.
The Maudsley Approach to eating disorders requires participation from the entire family, not just the sufferer.
According to Diane Shaw it is that crucial factor which is missing from Northern Ireland services.
"We were seen as part of the solution not the problem. We weren't made to feel it was our fault.
"We were treated as a unit, we were involved in the discussions and the therapy. I was given the tools to deal with Victoria when she came home to us. I had never been given those tools before."
The couple are involved in a two-day conference taking place on Friday and Saturday at NICVA.
Friday's speakers involved practitioners, however Saturday is devoted entirely to families.
Anne McKenny is with the eating disorders unit in the Belfast Health Trust.
"The focus on the conference is about the family," she said.
"While services for adults here have improved there is still a lot more to be done. Parents shouldn't be made to feel they are the problem, they should be involved in the solution.
"We have started to run parts of the Maudsley programme throughout our trusts and will be doing more in the future. "
While Northern Ireland doesn't have an eating disorders unit for adults there are specialists trained in each of the four health trusts.
They attend adults who are admitted to hospital. A therapy service is also available when the person is discharged.
But according to the Shaws, their daughter Victoria is seeing a therapist for one hour every two weeks. They say this is insufficient.
Health Minister Edwin Poots said additional funding of £1m per year had been made available to support community-based eating disorder services in the last five years.
"The development of eating disorder services in Northern Ireland is being taken forward by the Regional Eating Disorders Network Group (REDNG) which includes representation from the board, trust, professional/practitioner, voluntary sector, carer and users across the region.
"There has been significant progress in services since 2005, with investment of £2m per annum since then in the development of community based eating disorder services.
"Adult inpatient treatment is facilitated as required in existing hospitals with in-reach support provided by specialist community based eating disorder teams.
"Current initiatives include a 'day programme' which currently being piloted in the Belfast Trust, in conjunction with the community and voluntary sector.
"This initiative will promote treatment of patients closer to home rather than in inpatient facilities."