Northern Trust accepts Antrim Area hospital criticism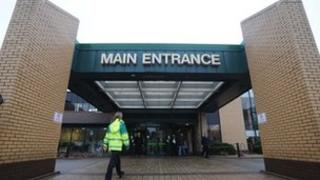 The Northern Health Trust has said it accepts fully the recommendations of two reports which criticised practices at Antrim Area hospital.
The independent reports were commissioned by the Health Minister Edwin Poots following criticism over patient waiting times at the hospital.
The reports highlighted a catalogue of failings in patient care and criticised the hospital's bureaucratic culture.
The health trust said it was committed to improving patient care.
Its chairman, Jim Stewart, said the challenge was delivering a quality service within the resources available.
The reports were both leaked on Tuesday afternoon.
Patient dignity
One was written by English GP, Dr Ian Rutter, who spent time observing practices in the emergency department at Antrim Area hospital.
Dr Rutter's report said that "some aspects of patient care lacks dignity" and that "patients should not have to wait for considerable lengths of time on trolleys".
The second report was written by Mary Hinds from the Health and Social Care Board following consultation with staff members at the hospital.
It revealed low staff morale caused by a culture driven by "rules, targets and protocols".
Ms Hinds said "while targets are extremely important they shouldn't be achieved at the detriment to patient care".