Four in court over 'terror training camp' near Omagh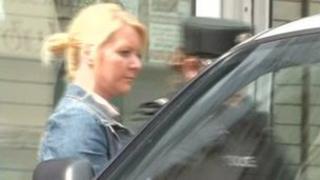 Four people have been remanded in custody in connection with an alleged weapons training camp in County Tyrone.
Sharon Rafferty, 37 from Cavana Linn in Pomeroy, Sean Kelly, 46 from Duneane Crescent in Toomebridge and Gavin Coney, 34 from Gorticashel Road in Greencastle, were remanded in custody.
Terence Aidan Coney, 33 from Malabhui Road in Carrickmore, who sought bail, was also remanded in custody.
The court heard that on 30 March, 200 rounds were fired at a training camp.
A detective sergeant told the court that Terence Aidan Coney was believed to have membership of a proscribed organisation and had attended weapons training in preparation for an attack on the police and the community.
He said on 30 March, approximately 200 rounds were fired at a training camp in Formil Wood, Gorticashel Road, Greencastle.
He said Mr Coney had been identified as a front seat passenger in a vehicle arriving and leaving the wood and that he had been seen getting out of and into the car. He agreed that no forensic evidence connected Mr Coney to the training camp.
He said the police viewed the incident on 30 March as terrorist training, based on taped conversations between two co-defendants, Sharon Rafferty and Sean Kelly.
In those conversations, he said they had discussed firearms training, the penetrative power of a .22 rifle on human beings, and the movements of mobile police stations.
He said in one taped conversation, Ms Rafferty was heard to say "targeting Catholic police officers is no longer a challenge".
Mr Coney's defence solicitor Peter Corrigan presented references to the court from a local GP, a priest and clients Mr Coney had worked with in his architecture business.
He said eyewitness evidence connected Mr Coney to the improvised firing range in Formil Wood near Greencastle.
He added that there was no risk of re-offending or absconding and Mr Coney would agree to stringent bail conditions, including a tag.
District judge Bernie Kelly said the eye-witness evidence, coupled with the forensic evidence against the co-defendants, was enough to connect Terence Aidan Coney to the incident and she was not satisfied any conditions would "individually or globally" meet the need for reduced risk.
Mr Coney was also remanded in custody, to reappear by videolink on 19 June in Omagh. The other three defendants were remanded in custody to the same date.