Sinn Fein reshuffle as Martina Anderson takes on MEP role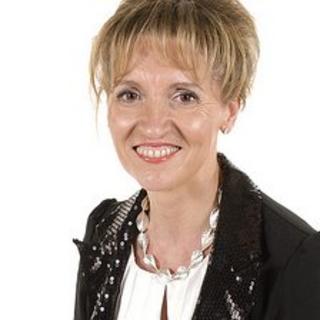 Sinn Fein has a lot of decisions to make as it shifts personnel to fill Bairbre de Brun's European seat.
But the choice on Thursday night is straightforward as Martina Anderson was the only name put forward to the selection convention in Londonderry
Her "coronation" as MEP has been over-shadowed by a row over remarks she and her fellow junior minister Jonathan Bell made over sectarianism and golf clubs this week.
He apologised on the airwaves within hours of a BBC report, calling his remarks "clumsy".
Martina Anderson waited until Wednesday to put out a statement, after the deputy first minister had called the comments "unfortunate".
Her apology over any "confusion" caused by her use of a "metaphor" ends a year in office which has been gaffe-free.
While her appointment to junior minister was seen as an attempt to bolster her profile ahead of the next Westminster poll in 2015, her move to Europe indicates the party is looking elsewhere for a candidate to take on sitting MP Mark Durkan.
An SDLP source in Foyle claimed: "This is an admission she can't beat Mr Durkan."
Europe could be a springboard for her to challenge Mr Durkan again although speculation has already begun that Martin McGuinness is a potential candidate.
Others are focussing on Raymond McCartney whose media profile has been higher of late in the constituency.
"They are putting him up a lot for interview," said one observer.
More immediately, Sinn Fein has to find a new MLA and a new junior minister.
The party is refusing to be drawn. A Sinn Fein spokesman said this was a matter for the party leadership. Another claimed: "We haven't even discussed it."
Stormont has been rife with speculation that the party will re-appoint a woman to both posts but at this point it is fairly idle speculation.
Among the potential candidates for the MLA's job is Elisha McCallion, a young Foyle councillor.
She also happens to be a niece of Martina Anderson, according to sources in Derry.
Maeve McLaughlin is Sinn Fein's leader on the council but she could be lined up for mayor if not the MLA's post.
Sinn Fein's Paul Fleming stood for Foyle in the last election and sits on the council.
Sinn Fein could go for a wild card candidate, as they like to do. Might they consider Declan Kearney, the party's national chairman?
As for the junior minister's post, that, too, has been a talking point at Stormont.
One insider in the Office of the First and Deputy First Minister, not aligned to Sinn Fein, speculated the party may go for MLA Jennifer McCann, or Sue Ramsey.
Ms Ramsey stepped into the health committee chair's post when former minister Michelle Gildernew broker her leg. Ms Gildernew is back but she has not got her old post back.
A junior minister's job would certainly cheer up Ms Gildernew but then her personal happiness is not a consideration in these matters.
Sinn Fein has a lot of decisions to make - to which the press office retorted: "Sinn Fein is used to making decisions and will make the right one."