Contempt case against Peter Hain MP dropped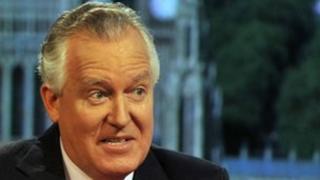 A contempt of court case taken against former NI Secretary Peter Hain over criticisms he made of a judge in Northern Ireland will not proceed, Belfast High Court has ruled.
Mr Hain wrote to Attorney General John Larkin clarifying remarks he made about a high court judge in his memoirs.
He said he never intended to question Lord Justice Paul Girvan's motivation in handling a judicial review.
Nor did he question his capabilities as a judge.
In the light of that, Mr Larkin said, a case against Mr Hain did not now need to continue.
He said he no longer believed there was any risk to public confidence in the administration of justice.
In a statement, Mr Hain and his publisher said it was a victory for freedom of speech.
Mr Hain's letter to the attorney general was read out in the High Court in Belfast on Thursday.
In it, the Neath MP said it was never his intention to question the judge's handling of a judicial review brought over his appointment of an interim victims commissioner.
Legal action was taken by Mr Larkin, over remarks in Mr Hain's autobiography, Outside In.
In the book, Mr Hain was critical of one of the judgements Mr Justice Girvan made in Belfast six years ago.
The publishers said a footnote would be inserted in a future edition of the book, containing Mr Hain's clarification.
Mr Larkin had initiated the legal action on the basis that Mr Hain's criticisms undermined the administration of justice and constituted unwarranted abuse of a judge.
A preliminary hearing began in the High Court in Belfast in April. Mr Larkin represented himself.
The decision by the Attorney General to bring the case had been heavily criticised by politicians including the Prime Minister, David Cameron, and Northern Ireland's Finance Minister Sammy Willson.