Does the Community Relations Council have a future?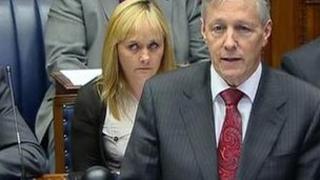 We are halfway through community relations week, but will the independent organisation that runs the event be around in its current form next year?
The future of the Community Relations Council has been up for debate between the Stormont parties as part of their much delayed Cohesion, Sharing and Integration talks.
Although the final shape of that strategy has yet to be determined it seems unlikely that the Community Relations Council will hold on to both its current roles as a distributor of grants to community groups and a watchdog keeping an eye on the Executive.
The council was created as an independent charity 22 years ago, in the days of direct rule, with the aim of "promoting a peaceful and fair society based on reconciliation and mutual trust."
Fractitious
It has a dual purpose - administering millions of pounds in grants to community groups tackling division on the ground, and serving as a watchdog commenting on how successive administrations performed when it came to building a shared future.
However the council's relations with the two biggest Stormont parties have sometimes been fractious.
When the Executive's draft strategy on Cohesion, Sharing and Integration emerged two years ago it was criticised by those who believed it enshrined a "carve up culture".
Sinn Fein's Martina Anderson responded angrily back in 2010 by referring to what she called a raft of "unelected, unnecessary and ineffective" good relations quangos, adding that in the context of an agreed Cohesion Sharing and Integration strategy "many of these quangos could be redundant and should be abolished".
The DUP has been less outspoken, but late last month I asked the First Minister if the council would continue its current role.
Peter Robinson didn't provide any guarantees, telling me "I think we must always look and see if there are better ways of doing things and we mustn't get tied to any particular organisation that has been there and has done a good job while it has been in existence."
Clout
Earlier this week the Alliance leader David Ford clashed with both the DUP and Sinn Fein over which party was serious about community relations.
One of the "minimum requirements" Mr Ford set out for a new Cohesion Sharing and Integration policy was what he called "an independent delivery system for community relations, with enough clout to challenge government when it isn't doing enough."
He elaborated on this, telling me that "it's absolutely clear that we need an independent voice dealing with community relations matters and in particular holding the government to account when it's failing to deliver. The Executive is currently failing to deliver, that's why we need an independent body with teeth."
What's under debate is not the outright abolition of the council, but a division between its grant giving and watchdog roles. In fact much of the Community Relations Council's grant activity has now been taken over by the new Stormont Victims Support Service, whilst others grants have been lost because European peace money is running out.
The Irish News columnist Brian Feeney is no friend of the council - he sees it as "a bit of window dressing by the Northern Ireland Office" which didn't seriously address divisions here.
Careful
However he warns the Stormont politicians they if they establish a new body to give out cash to community groups, they will have to be careful that's it's seen to be independent rather than being run by a political party or one government department.
"There have been all sorts of criticisms about an alleged slush fund that Sinn Fein and the DUP are administering through the OFMDFM, but there has to be some sort of organisation to hand out those grants.
"In some places in Britain that have problems of the streets it's local councils that give out grants and maybe there's a point in doing that here that you give money to councils and they hand it out rather than having some grandly named Community Relations Council."
The Community Relations Council chair Tony McCusker expressed some frustration earlier this week over the delay in the politicians producing an agreed strategy.
He makes the point that his council was set up as an independent charity and says they would be concerned if the plan is to turn them into an advisory body appointed by Executive ministers.
Independence
"I think our preference would be that the CRCF would remain as an independent body" he told me "but be invited to advise and to challenge the Executive and local society about how community relations issues are being taken forward."
So how does Mr McCusker respond to criticism of his organisation as an unnecessary quango and a part of the community relations industry, whose job would be better performed by local councils?
"There's an issue of 11 or 26 bodies doing it rather than just one" Mr McCusker says "I think the other issue is whether community relations becomes subject to political oversight and political dogfights either within the Executive or at a local level. The advantage of the Community Relations Council is it has its independence and can sit outside the political demands of the parties at both levels."
One compromise might be to remove the council's grant giving role, but hand it over neither to the district councils nor to the First and Deputy First Ministers' Office, but instead to a small number of regional administrative bodies.
However whether any such compromise can be agreed will depend on the Cohesion Sharing and Integration talks making the kind of progress they have so far failed to deliver.