NI unemployment rate falls but more people sign on dole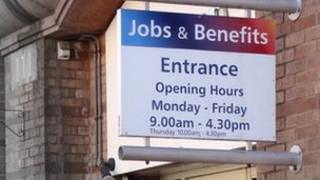 The unemployment rate in Northern Ireland has fallen.
However, there has been an increase in the number of people signing on the dole, according to the latest figures.
Using the government's official measure of joblessness, the unemployment rate was estimated at 6.7% for the first quarter of this year.
That was half a percent less than in the the winter of 2011 and Wednesday's figure is below the UK average rate of 8.2%.
However, the number of people claiming unemployment-related benefit has increased.
The number on benefits in April was 62,500 a jump of 700 on the previous month.
The Northern Ireland claimant count rate in April was the second highest among the 12 UK regions.
Almost half those without a job have been unemployed for more than a year.