Peter Robinson steps into transfer test debate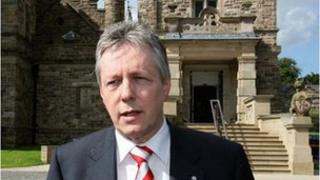 Northern Ireland First Minister Peter Robinson has vowed to break the impasse over academic selection.
Agreement with Sinn Fein on the issue was not possible, he said.
Mr Robinson said he was launching his initiative to find a common transfer test for all schools. Sinn Fein is opposed to selection at 11 years old.
Education Minister John O'Dowd, SF, said the DUP leader was entitled to engage in whatever work programme he wished.
"The question that has to be asked is who are the winners and who are the losers," he said.
Mr O'Dowd said the minority of grammar schools were the winners.
"The losers are those from the Protestant working class communities who are left behind in the education debate and who were once the DUP's core vote," he said.