James McClean subjected to abuse after Republic of Ireland call-up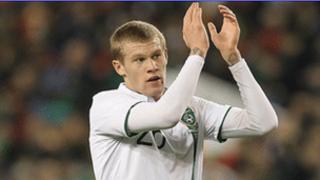 Former Northern Ireland U-21 footballer James McClean has been subjected to sectarian abuse after being named in the Republic of Ireland's Euro 2012 squad.
Some of the messages directed at the Londonderry man on Twitter also contained threats.
The 23-year-old winger, who plays for Sunderland in the Premier League, discovered on Monday that he had been included in Giovanni Trapattoni's team for next month's finals.
He said he was thrilled at the call-up.
McClean tweeted: "Absolutely honoured and couldn't be happier to have been called up to represent my country at the Euros. No better feeling."
He later told the Mail: "To be called up to represent Ireland has always been a personal dream of mine and to be associated with players who I have watched myself is very special.
"I can't wait to join up with the squad and start to focus on the Championships."
His news was met with messages of congratulations, but also some posts containing sectarian abuse and threats to kill.
Some of the messages have since been deleted.
One fan tweeted in response: "The sectarian and discriminatory abuse James McClean is taking off confused NI fans is simply a disgrace."
Another said: "Just heard that James McClean is in the Irish euro 2012 squad. Good lad, he deserves it."
McClean, who carries an Irish passport, made a general response following the abuse on Twitter.
He tweeted: "Love the dogs' abuse am gettin off shock N.I fans, just worry about watchin ur own country at the euros... oh wait #mybad #awkward haha."
East Londonderry MP Gregory Campbell said it was "reprehensible that anybody's life is threatened by whatever decisions they take".
"Hopefully we can get beyond that and get on with the tournament and people can support whatever team they feel comfortable supporting," he said.
SDLP assembly member Conall McDevitt also condemned the threats saying proper football fans would not condone them.
"Football is one of the most amazing sports in the world. We need to unite behind players who are going to lay their bodies on the line... and not think about the politics."
A spokesperson for the PSNI said: "We don't discuss individual cases, however, if we receive information that a person's life may be at risk we will inform them accordingly. We never ignore anything which may put an individual at risk."
McClean has previously been the target of abuse from unhappy Northern Ireland fans since he declared for the Republic, having been brought through the ranks by the Irish Football Association.
He made a massive impression in his first season at Sunderland and made his senior debut for the Republic in February.
The former Derry City player received a huge ovation when he came on as a substitute against the Czech Republic.
The Republic will continue their preparations for this summer's tournament in Poland and Ukraine by playing friendlies against Bosnia-Herzegovina on Saturday 26 May and Denmark two days later.