Ireland breathes sigh of relief as 100 year old tortoise found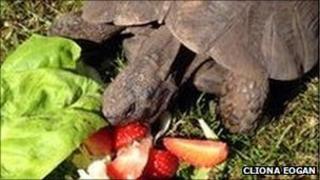 He's the twitter tortoise who had all of Ireland looking for him but today Florentine, the 100-year-old family pet finally found his way home.
Florentine escaped from his home in the south Dublin suburb of Rathgar in the early hours of Saturday morning.
The Eogan family, who have owned the tortoise for the last 40 years, took to social media in an attempt to find him.
The hashtag #rathgartortoise began trending on twitter across Ireland.
Florentine's story went viral with all the major media outlets in Ireland following the story.
Twitter Sensation
The tortoise escaped through a side gate which had been inadvertently left open by his owners. He has been living with the Eogan family since the early 1970s.
Cliona Eogan, 30, told BBC News Online: "Yes he is home, he was covered in muck, we think he might have buried himself in the neighbours garden.
"It is totally unusual for him to do that, we can only assume that it's due to the weather.
"The reaction across Ireland has been unbelievable - we never expected that it would take off like this. Florentine is loving his new-found fame and all the attention.
"Now he is home we have given him some of his favourite foods as a treat - lettuce and strawberries."
Cliona's mum Fiona had made an appeal for help to find the tortoise earlier in the day on BBC Radio Ulster's Talkback programme. She told host Wendy Austin the family was worried Florentine would be "run over or get stuck in a drain."
Well wishers took to twitter after news of his safe return broke. @Hollygray10 said "I'm so happy the #rathgartortoise has been found safe and well." @CultHeritageIrl added "The Irish Nation breaths a sigh of relief as Florentine the tortoise is found."
Florentine is now recovering in his garden and enjoying his new found celebrity status. The Eogan family are just pleased he returned before they had to 'shell' out for private investigators.