Consumer Council in BMI Baby call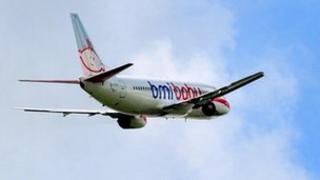 The Consumer Council is calling on BMI Baby to do all it can to help passengers after it announced it is to pull out of Belfast City Airport.
Thousands of people have had summer holiday plans ruined with the news.
The budget airline will cease flights from 11 June. It was taken over last month and the new owners said they had to act in the face of big losses.
They apologised to all affected customers and said they would provide full refunds.
Scott Kennerley of the Consumer Council said: "Passengers already booked on a bmibaby flight will naturally be very concerned and wondering what their rights are.
"Passengers are entitled to a full refund if they are unable to make suitable alternative arrangements with BMI Baby.
"Passengers who have booked a package holiday that includes a flight with the airline will also be protected under the ATOL scheme and should contact their travel agent.
"If a holidaymaker is in any doubt whether their holiday is protected by ATOL they should check with the agent who they booked the package with."
BMI Baby transferred to the ownership of International Airlines Group (IAG) last month. It has entered talks with unions about its future.
BMI Baby said it would not affect BMI mainline's service from Belfast to London Heathrow.
Peter Simpson, BMI interim managing director, said the company had lost £100m in the last four years and would have to be "realistic" about its options.
"We recognise that these are unsettling times for bmibaby employees, who have worked tirelessly during a long period of uncertainty.
"To help stem losses as quickly as possible and as a preliminary measure, we will be making reductions to bmibaby's flying programme from June."
One passenger who had booked a flight with bmibaby, Maria Kennedy, told the BBC: "I felt almost sick. I just thought we're not going to get going on holiday.
"And then panic, because everybody else was going to be in the same boat, so everybody will be looking flights all over Europe, so obviously the flights will go up as well.
"It was just awful, it was just a really nauseating feeling."
She has since booked flights with another airline but had to pay more to do so.
George Best Belfast City Airport confirmed 420,000 of its passengers had flown with bmibaby in 2011.