Under-18s are banned from sunbeds in Northern Ireland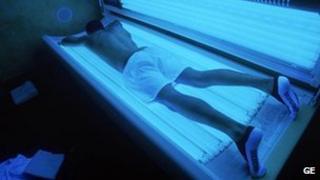 Health Minister Edwin Poots has announced new legislation which bans people under the age of 18 from using, hiring or buying sunbeds in Northern Ireland.
Firms found to be permitting sunbed use for under 18s may be prosecuted from 1 May.
Councils will be responsible for enforcing the new legislation.
Mr Poots said the legislation was a "significant step towards protecting young people".
He added: "In Northern Ireland, the incidence of skin cancer cases has been increasing over the past 25 years.
"It is the now the most common form of cancer accounting for 28% of all individuals diagnosed with cancer.
"Younger people, under the ages of 18 are particularly at risk as younger skin is more delicate and prone to damage than older skin.
"Sunbed users under the age of 35 have a 75% higher risk of developing malignant melanoma, the deadliest type of skin cancer.
"There is a misconception among young people that tanned skin looks healthier, but using sunbeds to achieve this can give you wrinkles and brown spots resulting in premature ageing, and increasing the risk of developing skin cancer."
The legislation will also ensure those over 18 who wish to use sunbeds will be provided with information on the health risks.
Sunbed premises will be required to display a notice warning of the risks of sunbed use.
The Department of Health said the measures would seek to ensure that appropriate protective eyewear was provided and worn.
It said all premises offering sunbeds sessions must be supervised.
Mr Poots said: "The new legislation will ensure that all adults are given appropriate information warning them of the potential dangers to their long-term health and ensure that sunbed premises are properly staffed."
Dr Carolyn Harper, Director of Public Health for Northern Ireland, has welcomed the new legislation.
"Many people think having a tan makes them look healthier and more attractive, but we know having a tan is actually a sign that our skin is trying to protect itself from UV (ultraviolet) damage," she said.