Anger over mobile mast turn-off in Glenariff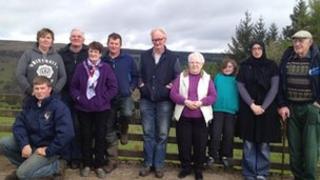 A mobile phone operator's decision to turn off one of its masts has caused anger in the Glenariff area of County Antrim.
Everything Everywhere, the company that runs Orange and T-Mobile, turned off the mast as part of a network improvement programme.
The company says it is investing millions of pounds in Northern Ireland to create a network that delivers "bigger, better and more advanced mobile coverage than any other in the region".
However, the decision has left some people living close to Glenariff Forest with no coverage.
Catherine Crawford has a large sheep farm, she said it would have a big impact on their business.
"We got no notification whatsoever and the mobile phone is our lifeline here in the Glens," she said.
"If I was out lambing a ewe and we need assistance we lift the phone and ring, now we have no contact at all."
Some older people living in the area are also concerned that they no longer have a signal.
Pensioner Michael O'Boyle said it had left him and his wife feeling much more isolated.
"It is always good to have the phone because if anything goes wrong, which it has done before, it's always handy," he added.
"The carers that come round can't get any connection at all when they come here if they need help."
'Coverage loss'
There is no other mobile network provider in this relatively small area so changing networks is not an option.
Sinn Fein MLA, Oliver McMullan, has said he will raise the issue with the company when a representative visits Stormont next week.
"I think this shows once again that there is little or no regard given to the rural dweller, I will be meeting with T-Mobile next week at the Assembly and I will be asking them to put this service back on," he said.
"I would like to know first of all why it was turned off, if it is a cost implication, how much it is costing and why did they set it up in the first place?"
Everything Everywhere has apologised to those who say they were not contacted prior to the mast being turned off.
It says the changes will benefit the vast majority of T-Mobile customers in Northern Ireland, but it is aware of the situation in Glenariff.
"A very small number of T-Mobile customers have reported a coverage loss and we apologise for any inconvenience this may cause," they said.
"Our technical teams are currently working on options to restore service in the Glenariff area and we will be working with customers individually to assess their circumstances."