Mother says son shot in Derry because of drugs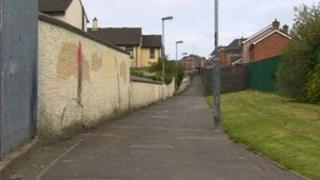 The mother of an 18-year-old shot in Londonderry has said she believes he was targeted because he was a drug user.
The teenager was shot in both legs at Rinmore Drive in Creggan shortly after 22:00 BST on Thursday. He was treated in hospital before being discharged.
His mother was told to take him to the location, and waited at the top of a lane while he was shot twice.
"I know what happened was wrong but hopefully he'll get help," she said.
Condemned
The dissident group Republican Action Against Drugs (RAAD) is suspected to have been behind the attack, which been condemned by politicians and police.
The woman said she believed he was targeted "because he was dealing in drugs to feed his habit".
"It should never have come to this, he shouldn't have been doing what he was doing," she said.
"I don't agree with drug dealing and hopefully we can work from here to get him the help he needs."
She said she was ordered to bring her son to a specific place in the Creggan estate.
"He walked down the lane - I was standing at the top - and I heard two shots," she said.
"I ran down to him. There was blood coming from both of his legs, but he was lucid.
"I just did what had to be done."
'Rampant'
She said drugs were "rampant" among young people in Derry.
"I have witnessed the hallucinations, the depression - the weight loss is unbelievable and his mental state... I was losing my son through drugs," she said.
Chief Superintendent Stephen Martin said the attack was "carried out by a criminal gang who set themselves up unlawfully as judge, jury and administers of summary punishment".
"They have brutalised members of their community and inflicted terrible injuries, much of those on young people, over the last number of years," he said.
"We have seen how they have carried out assaults and attacks on those who have raised their voice against them. This year we have seen their thirst for power go further when they claimed responsibility for murder.
"They seek to intimidate and bully through the threat of violence and it's time they listened to the community, stop what they are doing and disband."
One of the organisers of a rally against RAAD said he thought the shooting had been deliberately timed ahead of a rally they were holding on Saturday.
Davy McCauley, who is a spokesman for RAAD - Not In Our Name, said he was "disgusted".
"This is their attempt to say they won't go away and that rallies won't do any good," he said.
"After the last rally we had, Republican Action Against Drugs (RAAD) were forced to rescind two death threats they had issued.
"This shooting will not deter us and hopefully will bring more people out onto the streets."