Media priest Fr Brian D'Arcy censured by Vatican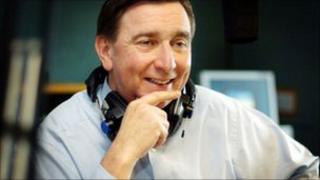 Father Brian D'Arcy, one of Ireland's best known priests, has been censured by the Congregation for the Doctrine of the Faith in the Vatican, according to the Tablet newspaper.
Fr D'Arcy, is a broadcaster and newspaper columnist.
It is understood that his column is now run past a church censor, though none have been changed as a result.
The disciplining of Fr D'Arcy brings the number of Irish priests censured by Rome to six.
The action against the priest was taken by the Congregation for the Doctrine of the Faith (CDF) last year after an anonymous complaint.
Fr D'Arcy has spoken out against mandatory celibacy for priests, church teaching on contraception and has been a vocal critic of the handling of clerical sexual abuse. In the wake of the Murphy Report into clerical abuse in the Archdiocese of Dublin Fr D'Arcy called for reformation of church structures and accused the Holy See of using legal procedures to shield itself from criticism over its handling of abuse.
The action came after Fr Ottaviano D'Egidio, the Passionist Superior General, was summoned by Cardinal William Levada, Prefect of the CDF, 14 months ago.
"Some time ago the CDF was in touch with our General about some of Brian's views and since then Brian has been co-operating to ensure that he can continue to make a contribution to the religious journalism that he is involved in," Fr Pat Duffy, the Irish provincial of the Passionists told the Tablet.
In a statement on Friday, Fr D'Arcy said he had been "living with the pain of censure for 14 months and will have to live with it for the rest of my priestly life".
"In these difficult times, it is the price one has to pay when one is committed to the truth, which is the duty of both the priest and the journalist," he added.
"Personally, I was saddened and disappointed with the contents of the congregation's letter but have come to accept that this is the CDF's way of dealing with issues.
"In the interests of accuracy, however, I need to emphasise that I remain a priest in good standing and that I have continued to carry out my priestly duties with the same dedication as before."
Fr D'Arcy said he had never denied the "legitimately defined doctrines of the Catholic religion".
"I respect all faiths," he said.
"Like all dedicated journalists and broadcasters, I check my facts as thoroughly as is humanly possible and if in doubt, I seek expert advice.
"I have continued to write and broadcast since the news of the Vatican's displeasure was filtered down to me in March 2011.
"I shall continue my ministry in communication because I believe that the church cherishes freedom of speech as an invioable principle.
"Pope Benedict made a fervent plea for freedom of expression on his recent visit to Cuba."