Connswater Greenway Plan contract 'should be terminated'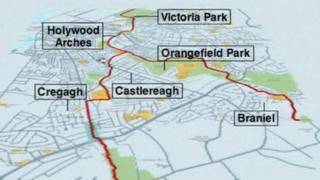 An independent mediator has recommended that a contract for a regeneration project in east Belfast should be terminated, the BBC has learned.
The Connswater Greenway Plan would create a community greenway and would help to alleviate flooding.
Last year, a dispute between the contractors and Belfast City Council stalled building work.
A mediator has now recommended the contractors should be offered a final payment of about £250,000.
It would mean the council would have to consider how to finish the multi-million pound contract which now could be delayed by at least 18 months.
The scheme has two aims: To stop flooding and build a new community greenway for walkers and cyclists.
The project would create cycle paths from Braniel and Cregagh Glen through Holywood Arches and would end up at Victoria Park.
It was funded by Belfast City Council, the Big Lottery Fund, the Rivers Agency and the Department for Social Development.
In 2010, a £21m construction contract was awarded to two firms - SIAC NI Limited and Galliford Try Infrastructure.
Last year's dispute centred on a number of issues including land access and design.
This year, in an attempt to find a resolution an independent mediator was brought in and met council officials and the contractors over a seven-week period.
According to council sources, the mediator - an English lawyer - has recommended that the contract be terminated.
Councillors have been briefed on Wednesday on the latest developments.
The BBC understands that the council has already begun the process to terminate the contract.
A spokesman for Galliford Try Infrastructure said: "We're not in a position to comment on your claim in any respect due to reasons of commercial confidentiality."