Defibrillator call after Saintfield woman collapses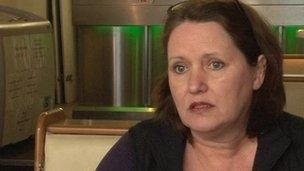 A County Down woman who was saved by a passer-by after her heart stopped and she collapsed on the street wants defibrillators to be installed in public places.
Lynda Donaldson suffered a cardiac arrest outside her Saintfield restaurant last year.
A first aid trainer spotted her and used a defibrillator which he had in his car boot to revive her.
Now the PSNI has said they will pay for a defibrillator for the town.
Lynda was with her husband when she collapsed.
"I had had no pain, nothing," she said.
"We had been out for our lunch and were having a good day and just as we got to the door, I felt, all of a sudden, dizzy and went to put my hand out to Grahame to say 'I feel dizzy' and I didn't even get the words out," she said.
Nurse Michelle McAvoy, who was passing, gave Lynda cardiopulmonary resuscitation.
First aid trainer Philip Batt also happened to be passing and noticed a commotion on the street.
"I thought I was seeing things to be honest," he said.
"I pulled over and grabbed my equipment out of the back out of the back of the car, the first aid kit, the defibrillator and the oxygen that I was carrying."
Defibrillators can cost between £700 and £1,000. The PSNI are going to use the money they get for community relations to pay for one for Saintfield.
Chief Inspector Deidre Bones said: "Obviously the people who are going to be using it are going to have to be trained, but it is definitely a very valuable asset to have at hand should the situation arise.
"We've seen the case of Fabrice Muamba, the Bolton Wanderers footballer, recently who took a cardiac arrest on the football pitch.
"So you know this can happen at any particular time and it can happen to anybody."
Ms Donaldson has now started a campaign to buy defibrillators.
"You need to get them into schools and get young ones trained and coming through because in a number of years time we'll have lots of people who are able to do this," she said.
"If you don't get the proper assistance within eight to ten minutes you just don't survive and that is just how critical it is with cardiac arrest," she said.
"How can I ever thank those people for saving my life? They are just amazing."