Contempt case against Peter Hain to begin in Belfast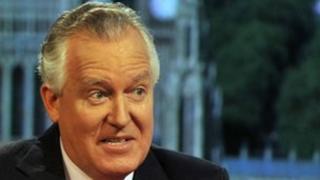 Contempt of court proceedings against the former Northern Ireland Secretary Peter Hain are due to begin on Tuesday at the High Court in Belfast.
The legal action is being taken by NI's Attorney General, John Larkin, over criticism of a judge in Mr Hain's autobiography.
Mr Hain said he was astonished the legal action was being taken.
The case concerns comments in his autobiography about Lord Justice Paul Girvan.
In the book, Mr Hain was also critical of one of the judgements Mr Justice Girvan made in Belfast six years ago.
The case is being taken by Mr Larkin on the basis that Mr Hain's criticisms undermined the administration of justice and constituted unwarranted abuse of a judge.