Human trafficking case man sentenced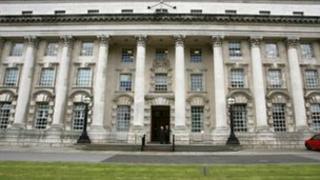 A man has been convicted by Belfast Crown Court of prostitution and human trafficking offences.
Matyas Pis, 38, formerly of Gaybrook Lawns in Dublin, was convicted of the trafficking of two women into the UK, controlling prostitution and brothel keeping.
It is is the first conviction for trafficking in Northern Ireland.
Recorder Tom Burgess imposed a sentence of 18 months imprisonment followed by 18 months on licence.
On three occasions, between December 2010 and March 2011 Pis arranged for two women to work in Belfast as prostitutes.
The women said they asked the Hungarian national to book their air tickets, and he provided them with an apartment in Belfast.
The women paid the defendant rent for the apartment and paid back their travelling expenses.
There was no allegation that the women were brought or held against their will.
'Sexual exploitation'
Judge Burgess said that even though there was no coercion involved, any case of trafficking human beings was a serious case.
As this was the first time that the courts in Northern Ireland have had the opportunity to sentence someone for trafficking offences, the recorder set out guidance for the courts to follow until the Court of Appeal has had an opportunity to provide an authoritative guideline.
The PSNI officer in charge of the investigation, Detective Inspector Douglas Grant, welcomed the conviction.
"These two women had been trafficked from Slovakia through the Republic of Ireland into Northern Ireland for the sole purpose of sexual exploitation, "he said.
"Police received information from the Hungarian authorities on 19 March 2011 that these two women were in Belfast.
"Following an investigation they were rescued on 21 March. The public can be assured that, if they report suspicious or unusual activity to police, we will take their report seriously and will act on it."