Rory McIlroy makes trip home to watch Ulster rugby match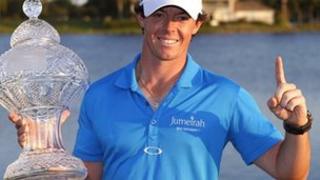 World number one golfer Rory McIlroy interrupted his busy schedule to cheer on the Ulster rugby team in Friday night's game against Leinster at Ravenhill.
Accompanied by his girlfriend, top tennis player Caroline Wozniacki, the couple watched Ulster lose.
Earlier on Friday, McIlroy met the Queen at Newbury.
The couple will fly to Stuttgart on Saturday as Wozniacki continues her hectic schedule of tennis tournaments.
He told the BBC that the trip home was unexpected.
"We were on our way to England from Nice, myself and Caroline, and we sort of talked about it," he said.
"I knew this match was going on and she said to me, 'how long a flight is it from London to Belfast?', 'I said maybe 45 mins, an hour' and she sort of raised her eyebrows and said 'well do you want to go for the night?' and I said 'perfect, great', so we're just here for the night."
McIlroy now spends much of his time in the United States and had not seen his beloved Ulster play since Christmas.
He had however watched the team beat Munster in their Heineken Cup Final semi-final two weeks ago before playing his final round at the Masters at Augusta.
Last week the young golfer was recognised in his home town of Holywood, County Down, with a special new sign.
The 'Home of Rory McIlroy' sign comes 10 months after he won the US Open and became one of the hottest properties in international sport.
The sign is close to his old school, Sullivan Upper, and just 100 yards from the house where he grew up.
North Down Borough Council put up the new sign.
There is no picture of McIlroy on the sign, and no reference to golf or the local golf course, Holywood, where he learned to play the game from the age of two.
However, North Down Borough Council has said the McIlroy family especially asked that any signage be low-key. It seems modest McIlroy did not want anything too ostentatious.
The world number one will be back in Northern Ireland in June for the Irish Open in Portrush.