Enda Kenny says true test of peace is absence of peace walls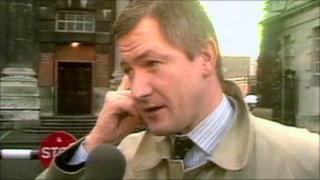 The taoiseach has told a Belfast audience that the "true test of peace" is the absence of peace walls.
Enda Kenny spoke of the need to build stronger and deeper cross-community trust, respect and friendship.
He warned that attempts by a tiny minority of so-called dissidents to return Northern Ireland to violence would not succeed.
Mr Kenny also re-iterated his call for a full public inquiry into Pat Finucane's murder.
He said that relations between the British and Irish governments had never been closer, but there were areas where there was a difference of opinion.
The Irish prime minister renewed his appeal for a full public inquiry into the 1989 murder of Belfast solicitor, Mr Finucane.
He paid tribute to Mr Finucane's widow Geraldine Finucane for the way she has campaigned with "great dignity and courage".
"I support her in that campaign for a full public inquiry," he said.
During his address to a 200-strong audience at the University of Ulster, he said: "For me a true test of peace in this city and elsewhere in Northern Ireland will not be in the number of size of 'peace walls,' but their absence. That's why we are so committed to the full implement of the Good Friday Agreement."
Mr Kenny said he looked forward to a decade of centenaries.
He said: "We want to ensure that this is a decade not only of remembering but also looking forward; a decade of renewed and strengthened cooperation between our two countries."
He also spoke of the Republic and Northern Ireland growing their economies to create jobs so that young people can stay on the island if they choose.
"I do not like to see forced emigration," he said.
Mr Kenny noted the links being forged with China and how both parts of the island have the same objective in facing the global challenges and delivering robust growth.
He appealed to people in Northern Irleand not to be indifferent to the EU Stability Treaty for Ireland.
He said it was in everyone's interest that Ireland ratified the treaty and for Ireland to continue to remain a member of the euro.