Sinking ship slide 'in bad taste'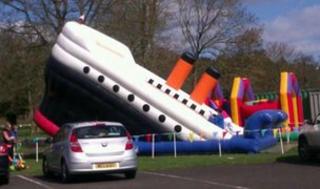 A council has been criticised over the presence of an inflatable, sinking ship in one of its parks on the centenary of the sinking of the Titanic.
The slide was among a number of facilities provided to entertain children in Lough Shore park on Sunday.
UUP councillor Adrian Watson said a number of people had complained to him that the timing was in bad taste.
Antrim Borough Council said it had been provided by a private contractor and no offence had been intended.
Mr Watson said he had contacted the council about the issue after receiving several complaints from the public.
He said: "They thought it was a wee bit in bad taste. It was fair criticism."
In a statement, the council said: "Over the last three years during the spring and summer at Antrim Lough Shore Park, children's activities have been provided by a private contractor.
"These include a miniature railway and various inflatables including a giant slide designed to replicate a ship.
"Last weekend the children's activities were operating as normal.
"Neither the contractor nor the council intended this to cause offence to anyone."