Parking fines to increase by 50% in Northern Ireland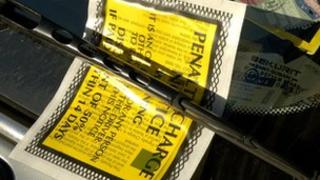 The maximum penalty for illegal street parking in Northern Ireland is set to increase from £60 to £90.
The Roads Minister, Danny Kennedy, said the move followed a rise in illegal parking during the past year.
At present, a £30 discount is applied if the £60 ticket is paid within 14 days.
The minister also intends to introduce charges in 25 car parks which are currently free to use. The car parks are located in 16 towns and cities.
The new car park charges will be levied at a maximum of 40 pence per hour.
Both changes will come into effect in June.
'Nonsensical'
Mr Kennedy told Stormont's Department of Regional Development committee that the aim of increasing parking fines was to ensure that drivers obeyed the rules of the road.
He asked the committee: "Why should drivers who blatantly ignore the rules get away with it?"
The minister said his decision to increase penalties to £90 would still allow law-breakers who cleared their fine within a fortnight to pay a reduced fine of £45.
But the SDLP's regional development spokesperson, Joe Byrne described the move as a "nonsensical decision".
"This is at a time when our town centre retailers, particularly, are struggling to get people into their stores to spend money and when people's income is being reduced, fuel prices are through the roof, dole queues are growing, unemployment is widespread, and benefits and working tax credits are being cut," he said.
Mr Byrne - who also sits on the DRD committe - added that it would "simply encourage people to spend money out of town where there are free parking facilities".
Figures from the DRD show that there were 125,848 parking fines issued in Northern Ireland between 1 January and 31 December 2011.
The figure was much higher than the previous year, when 116,009 tickets were written.
'Difficult'
But earlier this month, a DRD spokeman admitted that the income generated from fines did not cover the cost of providing parking enforcement and car-park services.
Parking enforcement in Northern Ireland was privatised in 2006 and the DRD Road Service contract is held by NSL (formerly NCP).
On Wednesday, the DRD confirmed that it needed to find £30m over the current budget period in order to deliver its frontline services.
Mr Kennedy said: "I welcome any comments the committee may wish to make on these proposals and I plan to explore other options with executive colleagues to help town centres during this difficult economic trading period.
"However, the additional revenue needed to maintain frontline services, such as pothole repairs and street light maintenance, must be found to avoid further annual increases in car parking charges over the lifetime of the budget."