Police investigate house fire that claimed two lives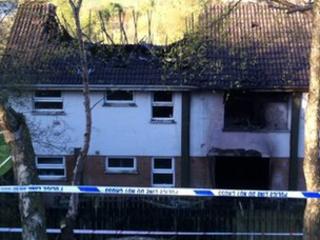 An investigation is under way into the cause of a house fire which claimed the lives of a mother and daughter in County Tyrone.
Elizabeth McGirr, 71, and her daughter, Deirdre, 38, died in the blaze at Dunlea Vale, Dungannon, at about 22:00 BST on Saturday.
Police are working to establish how the fire started. Neighbours said the fire was very intense.
One man, in his 30s, escaped injury in the blaze.
It is understood Mrs McGirr, who was also from the Dungannon area, was visiting her daughter at the time.
Sinn Fein councillor Bronwyn McGahan said the community was shocked and distressed by the news of the women's deaths.