Turkey murders: Recep Cetin ruling could take six months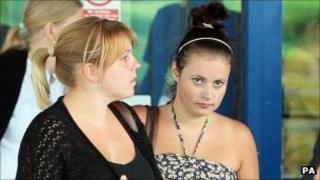 It could be six months before a judge decides if the case against a Turkish man accused of murdering two County Down women should be transferred from the juvenile court to the adult court.
Recep Cetin is accused of killing Kathy Dinsmore and Marion Graham in August.
During a hearing in Izmir, prosecution lawyers told the judge tests had shown Mr Cetin was 22, not 17 as he claimed.
However, the judge ordered the file relating to the tests to be sent to Istanbul for further examination.
He did so after hearing defence arguments.
Baris Kaska, the lawyer for the Graham and Dinsmore families, said the next hearing is scheduled for 7 June, but he doubted the judge would make a decision then on whether the case should go to the adult court.
He said he thought it could take at least six months before that happened.
Mr Kaska also said he expected prosecutors to formally charge Recep Cetin's father in connection with the murder in the next few weeks.
Eyup Cetin, who is in his late 40s, was taken into custody several months ago.
Ms Graham and Ms Dinsmore, both in their 50s, were stabbed to death in a wood near the city of Izmir in August 2011.
Mr Cetin was the boyfriend of Shannon Graham, Marion Graham's 15-year-old daughter.
Shannon was on a boat trip when the killings happened.
She alerted police when she arrived home and could not get in touch with her mother.