Stormont to host first Orange event for Ulster Covenant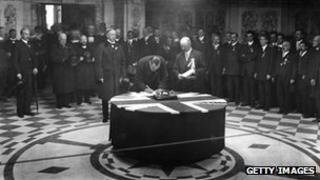 The Stormont estate will host the Grand Orange Lodge of Ireland's Covenant centenary parade later this year.
It is understood to be the first time in living memory that the estate will have hosted a formal Orange event.
The parade, to commemorate the covenant which opposed Home Rule in Ireland, will involve a march from Belfast city centre to a rally at Stormont.
Approval for the Grand Orange Lodge to use the estate has been given by the Finance Minister Sammy Wilson.
The centenary committee plan to have the speaker's platform next to Sir Edward Carson's statue in front of parliament buildings, home of the Northern Ireland Assembly.
In a statement, the Department of Finance and Personnel (DFP) said that permission had been granted "subject to detailed arrangements and relevant paperwork in relation to the event being agreed with the department's Estate Management Unit and other relevant authorities".
MLA David McNarry, who is a member of the centenary committee and a former assistant grand master of the Grand Orange Lodge, said that holding the event at Stormont was a historic development.
'Respect'
Speaking on BBC Radio Ulster's Talkback programme, the Strangford MLA said: "I think we've grown up as democrats and as politicians."
"I think we have reached a stage in our political lives where we have moved on to be able to respect each others' traditions and commemorations," he said.
He appealed to anyone who opposed the commemoration at Stormont not to disrupt proceedings or cause trouble.
The Ulster Covenant formed part of the unionist campaign against British government proposals to introduce Home Rule in Ireland.
In total, 237,368 men signed the covenant at Belfast City Hall, while 234,046 women signed a parallel declaration of their opposition to Home Rule.