Bangor minister says congregation disheartened by theft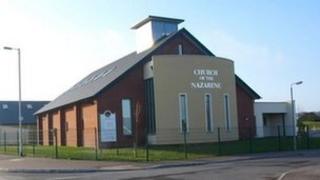 The minister of a Bangor church says his congregation have been left disheartened after thieves stole lead from the roof of the building.
Damage at the Church of the Nazarene is expected to cost thousands of pounds to repair.
Reverend Ken White said the theft had happened during a busy week in the church's calendar.
It was discovered on Good Friday evening by the church's caretaker.
"We had to do some remedial work on Monday urgently otherwise the damage would have been very extensive," he said.
"Thankfully with it being in the roof area it won't interfere with anything during the coming days, other than the effort of bringing in people to do the repairs."
Mr White said the church was surrounded by houses and located on a main throughway so it was difficult to imagine that no-one had witnessed anything suspicious.
"The police are making inquiries, we've had a good response from the local community, people are very disappointed that this has happened to a church on their doorstep, we just hope that something can happen."
DUP assembly member Alex Easton condemned those who carried out the theft.
Mr Easton said other churches should step up security after the incident.
"This appalling incident of stripping lead from the roof of the Church of the Nazarene over the Easter period is a despicable act," he said.