Altnagelvin Hospital elderly ward is closed due to bug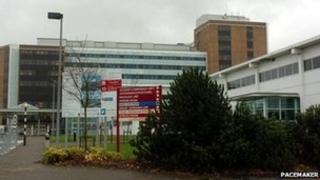 The elderly ward in Londonderry's Altnagelvin Hospital has been closed to new admissions.
The move is due to a diarrhoea and vomiting bug affecting patients.
The Western Health and Social Care Trust has appealed for the co-operation of the public to control the spread of the bug.
It has urged people not to visit patients at Altnagelvin if they have been feeling unwell themselves.
Elaine Way, Western Trust chief executive, said diarrhoea and vomiting are easily spread in closed environments.
"The public has an important role to play by not visiting the hospital if they are feeling unwell, particularly if they have diarrhoea and/or vomiting.
"And if someone has been unwell we would advise them to wait until at least 48 hours after they have had diarrhoea and/or vomiting before visiting the hospital.
"Those who are visiting are asked to thoroughly wash their hands before and after visiting, for their own protection as well as for the prevention of the spread of infection to patients," she said.
"Visitors are asked to limit visiting to the designated times of between 3pm and 4pm and from 7pm until 8.30pm. They should only visit the one patient whilst at the hospital and should not move from ward to ward when visiting."
The trust said the situation would be kept under review with a view to reopening the ward to admissions as soon as possible.