MLAs 'out of touch with people' - Taxpayers' Alliance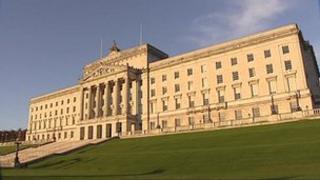 TheTaxpayers' Alliancehas claimed that the travel expenses of Stormont politicians show they are "out of touch" with ordinary people.
The lobby group said MLAs spent £68,000 on official trips between January 2010 and December 2011.
It obtained the details through a Freedom of Information (FOI) request.
The alliance claimed MLAs had stayed at "some of the best hotels in the world" at the public's expense.
It also claimed many of the trips were unnecessary, especially when options like video conferencing, were available.
'Five star'
The travel included air fares, hotel accommodation, and other expenses claimed by MLAs and their staff while on official assembly business trips.
A group of six MLAs who were taking part in an inquiry examining young people not in employment, education or training (NEETS) were booked into a 5-star hotel in Edinburgh for three nights in May 2010.
The hotel is described as "a new kind of luxury for the 21st century" on its website.
It was used twice to accommodate MLAs during the two year period under examination.
The alliance also said a trip to Washington D.C. to mark St Patrick's Day cost £6,243 for MLAs' flights and hotel accommodation.
The group's Northern Ireland coordinator Rosie Greer, said: "Many people in Northern Ireland feel the ruling elite is out of touch, and the information revealed in this FoI will not make them change their minds.
"What really annoys taxpayers is that MLAs have spared no expense when making those visits, staying at some of the best hotels in the world at our expense."
The group haspublished detailsof the expenses online.