Ian Paisley was 'electrifying' says Liam Neeson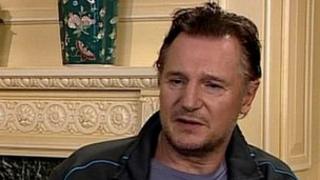 Actor Liam Neeson has told theAndrew Marr Showthat, as a child, he was inspired to become an actor by watching Ian Paisley make political and religious speeches.
The actor said he would creep into Mr Paisley's gospel hall in Ballymena, County Antrim, to hear him preach.
It was an "electrifying" experience, he said.
"He was a firebrand. He was like a throwback to some 19th century preacher and bible thumper.
"He was very intimidating, but extraordinary. I remember a couple of times creeping into his gospel hall to hear him. He was a big, big man, I'm 6ft 4in and he was my height but twice as broad.
"He was pretty electrifying."
Neeson told the show that he was keen to return to work on stage.
"That is how I started and I feel that I owe something to the world of theatre," he said.
"It is great to do, especially if you have a classic play, and it is great to be in front of audiences.
"Theatre predates cinema by about 4,000 years. You feel you have to pay homage to it now and again."
He also talked about his next role where he is due to play US President Lyndon B Johnson in a film called The Butler.
There are, he said, "two or three colourful scenes".