Police defend delay in response to Newry car bomb alert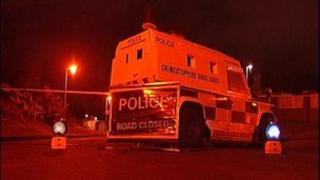 Police have defended a delay of over an hour before officers arrived at the scene of a car bomb alert in Newry, County Down.
A hijacked taxi, containing a suspect device, was abandoned close to houses on Martins Lane on Saturday night.
Residents used their own cars to block the road and tried to divert traffic themselves as they waited for police.
The PSNI said they did not attend immediately for safety reasons. The alert was later declared a hoax.
Police were told about the alert shortly after 21:30 BST and they began the evacuation shortly after 22:30 BST.
The taxi had been hijacked by two masked men who put a hoax bomb inside.
It was then driven towards Martins Lane, a residential area close to the main Belfast to Dublin road, where it was abandoned. Up to 20 houses were evacuated during the alert.
Army Technical Officers (ATO) were called and the device was declared a hoax just before 03:00 BST on Sunday.
Dominic Bradley, SDLP MLA for Newry and Armagh, said two people - one a woman in her pyjamas - stood at each end of the road to warn people not to pass the taxi.
But he claimed that some people did drive past it. He is now seeking a meeting with police to discuss their response.
The scene of the hoax alert is just a short distance from the A1 underpass where a 500lb bomb was abandoned in a van, exactly a year ago.
At the time, the PSNI were forced todefend their responsewhen hundreds of motorists unwittingly drove past the device, after cones were removed from an unmanned police cordon.
Speaking on Sunday, Mr Bradley said: "People in the area felt frustrated. They informed the police and they felt the police could have been there much quicker than they were."
"I understand that the police have to take precautions for their officers, but I am also concerned for the safety of the general public.
"Thankfully it was a hoax, but had it been a viable device, members of the public were driving past it and the area was not sealed for an hour and 20 minutes."
Mr Bradley said the taxi driver who had been hijacked had tried to park the car as far away from houses as he could but he, himself, was very shocked and shaken.
A woman who gave her name as Rosemary said her daughter lived close to the alert scene.
"We had to go around and knock doors and tell people to evacuate houses. Police were not there for an hour and 45 minutes. I cannot understand why they didn't respond when they received the first phone call. This is a question that the police will have to answer to the residents," she said.
"All the families with their children had to pass this vehicle to get out of the estate. A taxi driver blocked one end of the road so that no vehicles could come up, we blocked the other end so that no vehicles could come down. We should not have had to do that. That was up to the police force.
"When they arrived they did do what they had to, but it took them too long to do it."
She said she felt "maddened" by those who were behind the alert.
"How dare these people put children's and people's lives at risk. Have they any conscience whatsoever?" she asked.
In a statement, the Police Service of Northern Ireland said their investigation began "immediately" and officers had "worked as quickly as possible, planning and assessing, in order to ensure the safety of the community and the officers responding."
Area Commander Chief Inspector Anthony McNally said: "We, in Newry, are committed to investigating this security alert but we have an over-riding responsibility to protect and preserve life, and that includes the lives of the community and the lives of our own officers.
"For this reason, some situations may have to be dealt with cautiously due to the significant threat from a small number of people who have shown their determination to kill police officers."
Chief Inspector McNally thanked the residents of Martins Lane who "showed such community spirit in dealing with this incident".
Residents were taken to Newry sports centre and then a local hotel as the Army examined the device.
This was the second alert in the Newry area in two days.
On Friday, a bomb was found near the Cloughogue roundabout on the Newry to Dublin road.
Police said it contained a significant amount of explosives which had the potential to kill.