NI first to introduce law on microchipping dogs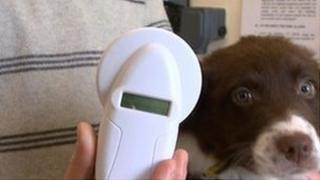 Northern Ireland is about to become the first place in the UK to introduce compulsory microchips for dogs.
A new law comes into force on Monday. The Stormont Executive hopes the new law will make it easier to identify dogs and thus reduce the number of strays.
The microchips each contain a unique number and are implanted into the loose skin between a dog's shoulder blades.
Nicola Poole, a dog warden, said the system would be helpful.
"I think it'll make a big difference to dog wardens," she said.
"It's another method of trying to track dogs' owners and get them home.
"Dogs' collars and tags can be lost and can be removed. The microchip is permanent, so it can be pretty helpful."