Belfast provides setting for Titanic light show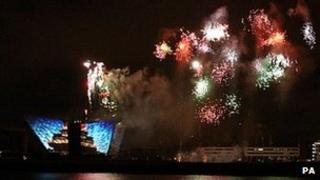 Belfast's newTitanicbuilding was the backdrop for a spectacular light show on Saturday.
About 30,000 people watched the combination of 3D graphics and pyrotechnics, set to music.
The display started modestly with spotlights on the building picking out silhouettes of Belfast's landmarks.
Then 3D projections of beams moving and cogs whirling told the story of the ship being built.
From the creation of the great ship, the display moved on to represent the fully finished ship.
An almost full-size Titanic appeared to rise up from the very place where it was built.
Forty engineers from the arts and technology company Seeper, took six months to design and install the display.
The crowds gathered at Albert Quay applauded.
The event was organised by Belfast City Council and the Northern Ireland Tourist Board who said it had been a great success.