PSNI officers suspended in racist and sectarian text messages inquiry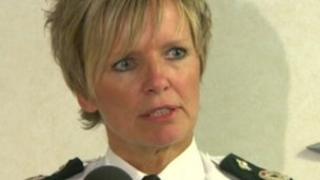 Four police officers have been suspended in Northern Ireland following an investigation into alleged racist and sectarian text messages.
The officers were suspended from duty on Thursday as part of an internal investigation.
The Police Service of Northern Ireland said the issues were identified "through internal PSNI mechanisms and will be robustly investigated".
It is believed the texts were found during another internal investigation.
A police spokeswoman said it was not linked to the suspensions of eight Metropolitan Police officers and a civilian staff member as part of an investigation into complaints of racism.
It is understood the text messages are of such an offensive nature that it is possible the four officers could lose their jobs.
Misconduct hearings
The officers at the centre of the inquiry work in various areas throughout the PSNI and are not senior members of staff.
Deputy Chief Constable Judith Gillespie said the police's professional standards department would be conducting a robust investigation.
"It is absolutely unacceptable for officers to engage in racist and sectarian language, and far less to exchange that in the form of texts to each other," she told a news conference.
"The message is loud and clear, that racist and sectarian behaviour on the part of police officers is absolutely not tolerated by the Police Service of Northern Ireland."
She said she did not want to prejudge the outcome of misconduct hearings, but the allegations were very serious.
"I have to say I'm very proud to be the deputy chief constable - we have a very proud record of service - but in terms of the context of these four officers' behaviour, this is not my proudest day," she said.
"We have had previous investigations involving officers who used racist texts and they were dealt with very seriously, but this is the first time I can recall that we've suspended four officers.
"I would be confident that if you had access to any of these texts, you would find them deeply offensive."