Baby thrown from burning house after Rathcoole arson attack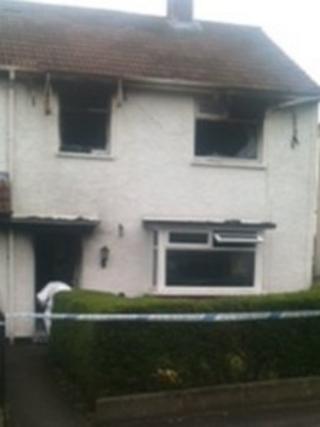 A couple and two young children have been rescued from a fire after an arson attack in Rathcoole on the outskirts of north Belfast.
Neighbours helped to rescue the family with ladders before firefighters arrived at the house at Clonbeg Drive.
A 14-month-old baby was thrown from the first-floor window as the fire spread through the house. The fire began at about 04:00 BST on Friday.
The family members were treated for the effects of breathing in smoke.
Their injuries were not believed to be life-threatening.
The house was destroyed in the fire.
'Inferno'
An adjacent house was also damaged, and a woman and two of her grandchildren had to be led to safety.
Neighbours were alert by the young mother screaming for help from a bedroom window.
With the front door alight and impassable, she had to drop her baby girl with neighbours waiting below.
Neighbour Deborah Stockard said the house fire was "an inferno".
"Your first instinct was to go out and help because people were squealing at the back of the house," she said.
Community worker Phil Hamilton said the actions of the neighbours were "heroic".
"This family has lost everything, and I'd appeal for everyone in Rathcoole to come together as a community to help out with clothing and housing to get them back on their feet," he said.
Police are treating the fire as malicious and have appealed for information.