UUP leader's 24 hour visit to family in 'deprived area'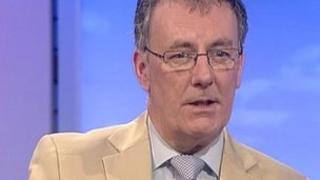 The new leader of the Ulster Unionist Party, Mike Nesbitt, has kept his promise to spend 24 hours with a family in a socially deprived area.
Mr Nesbitt said he wanted to find a family who would "adopt" him for a day so he could experience their problems.
During a phone-in on the BBC's Talkback programme, Radio Ulster listener Phillip Ferris invited the politician to his family home in Armagh.
On Thursday Mr Ferris said he had found the politician "humble" and "genuine".
Mr Nesbitt made his original comments the day after he was elected leader of the UUP.
He told BBC Northern Ireland's Politics Show; "Maybe what I need to do is go and find a family who would adopt me for 24 hours.
"I would actually like to live in an area of social deprivation, multiple deprivation, because I think it's important to get a feel for what it's like."
But critics, including the DUP, described the comments as condescending.
As he invited the politician to his home, Philip Ferris told Mr Nesbitt that he was not from a deprived background but that earlier that morning he had to choose between buying milk and given his daughter money for her school dinner.
Following the vist, Mr Ferris told Talkback that he had found the UUP leader to be a "genuine" and "down-to-earth" person.
"We discussed a lot about his life and my life; growing up, family issues and health issues".
He rejected those who dismissed the visit as a stunt.
"The proof will be in the pudding. Let's see what the guy does, he's only just been appointed," Mr Ferris said.
He claimed Mr Nesbitt had offered to reciprocate the invitation.
"He has said we're going to do the other half of the bargain and I'll go to spend time with him.
"He has asked me what I want to do and I said, 'Listen, you lived in my shoes, we did it in my way, you take me and I'll do it your way'", Mr Ferris said.
In a statement the UUP confirmed the visit had taken place and appealed for the Ferris family's privacy to be respected.
The party said: "Mike has confirmed that this is only the beginning of a process of listening, learning and engagement with a wide range of groups, organisations and individuals in the forefront of dealing with issues of multiple deprivation."